Buy From the Best Wholesale Flower Supplier in London
October 24, 2019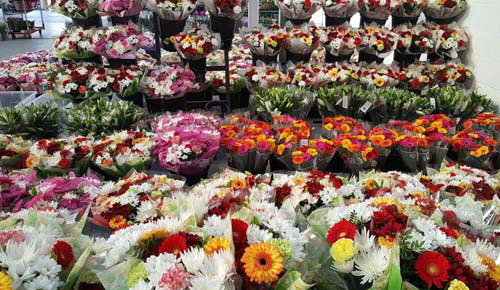 Are you an existing flower retailer in London, or planning to open a florist shop soon? Then, my friend, you may be looking out for a Wholesale Flower Supplier in London who can supply you fresh flowers at a relatively cheaper cost. Flowers have versatile uses in our day to day life. From floral arrangements in vases and bouquets to making garlands for religious offering, flowers have numerous utility and are a highly demanded product. A good and affordable florist shop is always on the must-visit list of the people in London.
How Can You Run A Successful Retail Florist Shop?
---
There are many florists in London but the ones running successfully are following certain strategies and plans that provide them an unbeatable profit margin in the business. Firstly you need to collaborate with the best and economic Wholesale Flower Supplier in London. If you procure your purchases at a cheap rate, then only can you sell at a better profit margin. Apart from that, you need a well-maintained shop and uninterrupted fresh flower supplies. Unique flowers and well-designed bouquets always draw in customers. A happy and loyal customer is the ultimate gain for your florist shop.
What Varieties Can You Sell At Your Florist Shop?
---
A florist shop can sell various varieties of stock such as fresh flowers, cut flowers, normal bouquets, customized bouquets, potted plants, and other decoration materials. The display rack at your florist shop should always be stocked up with eye-catching designs of floral arrangements. You can also play with the theme of any upcoming occasion or festival. For the upcoming Valentine's Day, you can always come up with theme-based bouquets and gifts. For the approaching Christmas why not customize your bouquets with small hanging gifts and Christmas goodies. Innovation is the key to success and a good Wholesale Flower Supplier in London can help you with newer designs and concepts.
How Can "Sheya Flowers- The Wholesale Flower Supplier In London" Help You?
---
"Sheya Flowers" is a Wholesale Flower Supplier in London. The reasons you should choose us over other Wholesale Flower Supplier in London are:
We deal in all sorts of floral supplies ranging from flowers, potted plants, bouquet decorations, and many other florist requirements.
We make sure that you get fresh flowers from us and so we supply you garden fresh stock that we procure from Holland.
We deal on sale and return basis- we accept the return of your unsold stock.
We do never ask for immediate payment and supply your materials in credit.
Our team guides you with tips to run a successful florist shop and guides you with ways to keep your stock fresh for long.
We do not charge for display arrangements. All the trays, flower boards, and display racks are free of charge.
We have a happy clientele base and all our happy customers and their positive testimonials are proof of it.
Contact us for more pieces of information!