Looking For a Convenience Store Flower Supplier- Read Here
January 23, 2020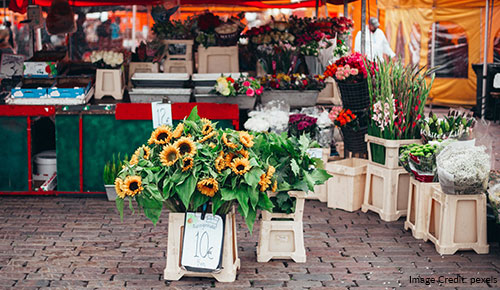 Flowers are cultivated in gardens and are supplied to wholesale suppliers. From them, it reaches the main market and to other smaller retailers who in turn provide these blooms to customers. It sounds like a connecting economic chain but amid this networking, the rates are hiked to skyrocketing prices. A Wholesale Flowers Supplier must provide stocks at reasonable prices and adequate conditions so that the later sale chain is benefitted. London has always faced the crunch of a good wholesaler convenience store flower supplier but no more. This blog post will introduce you to the best flower wholesaler in London and Hayes upon whom the majority of convenience stores and other retailers depend upon.
Holland is known for the exclusive cultivation of flowers and the growers there are so proficient in their work that their output and the quality are difficult to find a match. Sheya Flowers are known to obtain their stock directly from the cultivators of Holland so that they can be termed as the most exotic convenience store flower supplier. Convenience stores have separate categorized segments for flowers and bouquets and quality supplies and timely delivery is a must for them. We always focus on your growth and provide you with the freshest and the prettiest floral arrangements that can make heads turn at your convenience store.
How Can A Convenience Store Flower Supplier Help In The Growth Of Revenue?
---
Attraction
Everyone knows that a convenience store is meant for purchasing groceries and other household products. So getting consumers from various segments is not tough for a departmental store. All we do is divert those grocery consumers to your flower counter and attract them towards your gallery of attractive blooms. Impulsive purchase is the outcome of attraction and we aim at that. Your unique collection of bouquets and cut flowers that no other convenience store flower supplier, other than us, can provide is hard to resist and your customer comes out with one purchase in his hand.
Payment Convenience
Apart from unique display and exotic collection, our business policies and payment schemes are a victory catalyst for you and you will be benefitted by collaborating with the best convenience store flower supplier. Why pay in cash instantly when you can pay later on! Surprisingly true! We leave a credit note of the billing amount and you can take your time and convenience to pay us on our next visit.
Sale or Return
Convenience store has a huge footfall of consumers and if things go well in the proper direction, you will not face any leftover flower stock. But if it happens, we promise to take back our supplies and you are not charged for it. Even the minute concerns are addressed by the convenience store flower supplier who is the most recommended one in your town. Allow Sheya Flowers to spread love by means of colourful flowers and amazing bouquet designs. Collaborate with the most awarding convenience store flower supplier and see the difference!