Explore a Unique Customized Bouquet Shop in London
January 02, 2020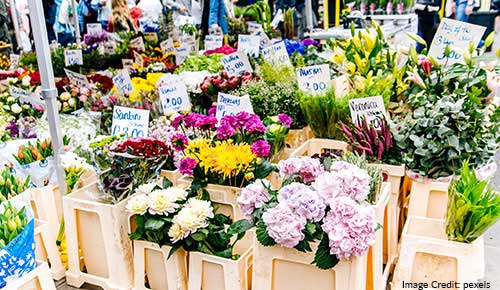 Bouquets and flowers are a means to express one's feelings! Flowers can convey the unspoken words and knows no barrier of language. You need to gift your loved one something special on every special occasion of their lives. With the upcoming Valentine's Day, what'sbetter than flowers and customized bouquets for the love of your life! Everyone has different choices and preferences when it comes to gifts but the one thing that is universally loved and accepted is the blooming beauty of nature.
Customized Bouquets
---
Bouquets are in trend since old times but can never go obsolete. Moreover, customization of bouquets and floral arrangements adds a personal touch to your token of sweet gesture. A customization is putting in the special instructions and inputs while making a bouquet, according to the client's choice and preference. A customised bouquet shop in London notes down the flower preference of the customers and crafts a beautifully designed bouquet out of his/her favourite blooms. Some may like rose bouquets while others may want to have all in all lilies bouquet! The choices of the customers and the weather conditions determine the flower that is used by the customised bouquet shop in London.
Some Special Customized Bouquet Designs and Patterns
---
The options are plenty! All you need to do is to play with your imagination and understand the likings of the gift receiver.
Chocolate Bouquet
If the person is a chocolate addict, you can always ask the customised bouquet shop in London to come up with an excellent Chocolate Bouquet with the chocolate flavours variants that you want! A bouquet with chocolates hanging on it is the most pleasurable sight for a chocolate lover who would love to grab it without wasting a moment.
Cards Bouquets
If the bouquet receiver is an emotional person who gets carried away with heart touching messages, then you can have a card bouquet from the customised bouquet shop in London. It will be designed with your favourite flowers and lots of mini cards to convey your messages and greetings.
Teddy Bouquet
For a soft toy lover, what could be better than a bouquet design that has a teddy grabbing the flower bunch in the middle of the flower arrangements? You can also have several smaller teddy pieces rather than one big one placed artistically with the bouquet garden.
Sheya Flowers- the Most Sought After Customised Bouquet Shop in London
---
The choices are plenty and the ideas are infinite! You can always visit Sheya Flowers- the best customised bouquet shop in London and view our offerings in the customized bouquet category. We are also open to accepting bulk orders for special occasions. We deliver quickly and punctually. You can rely on us completely as the prices we quote and the flowers and bouquets that we provide are beyond the market competition! We as the customised bouquet shop in London know how to please our customers and take every possible effort to provide you with the best and the most unique customized bouquet design in town.