Top Reasons to Collaborate with a Wholesale Flower supplier for Your Convenience Store Supplies
November 21, 2019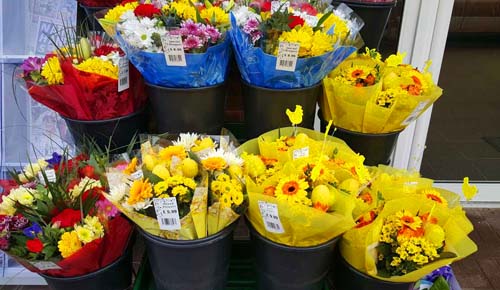 Do you have a convenience store in London? Then you must have a flower counter too! If you do not have one, then there are enough convincing reasons that you get a separate corner for flowers and bouquets. Flowers are the best communicating strings between people. It is the sweetest gesture that can bring the smile on faces. It has high sales and is in great demand and is an everyday grocery item. You can reap in immense profits with just a small flowering segment in your convenience store.
"Sheya Flowers" is a wholesale flower supplier in London that supplies to major convenience stores in London (MRH, Rontec, MFG, etc) and has never failed on their expectations. We are a big name in the wholesale flowering market and have many reasons to be rightly called the No.1 wholesale flower supplier in London. Some major reasons to collaborate with us are:
1. Supplies- If you have ever purchased from us then you very well know the quality of flowers that we sell. We purchase our stock directly from the cultivators of Holland and supply it to your doorstep. We also guide you with proper up-keeping of your stocks so that they last fresher for longer.
2. Rate- Our rates are market competitive and you will not find any other seller giving you the price quotation even closer to us. We offer you quality products at lower prices so that you can make better profits. Even the display racks, boards, flower trays are all provided free of cost.
3. Market Goodwill- If there is one big name in the market, then that is of "Sheya Flowers, wholesale flower supplier in London". This is because we never let down our clients and always provide them with the best deals.
4. Uniqueness- Visit our website and see our gallery to make sure you are in the right place! Our unique floral arrangements, handcrafted bouquets will help you attract more and more customers for your convenience store. We also make specialized bouquets such as chocolate bouquets on special demand. Cut flowers, potted plants, hand-made bouquets are all available at "Sheya Flowers".
5. Sale and Return Terms- Do not worry about the unsold flower supply. We know that flowers are perishable goods and you can suffer a huge loss if something remains unsold! We, as the best wholesale flower supplier, always care for your business and take back the unsold stock and you need not worry for losses at all. Just focus on sales and ways to please your customers. Leave the rest on us!
Running a convenience store is not an easy task. Lots of arrangement takes up your major time. Our employees are all geared up to help you. We will visit you regularly, arrange fresh stock on your display counter and take back the unsold goods. You just sit back and relax! Collaborate with the best wholesale flower supplier today to make your convenience store successful and popular. Our teamwork will surely open doors to a successful venture.